HMS Echo docks in Odessa on Friday, just before visit by Defence Secretary.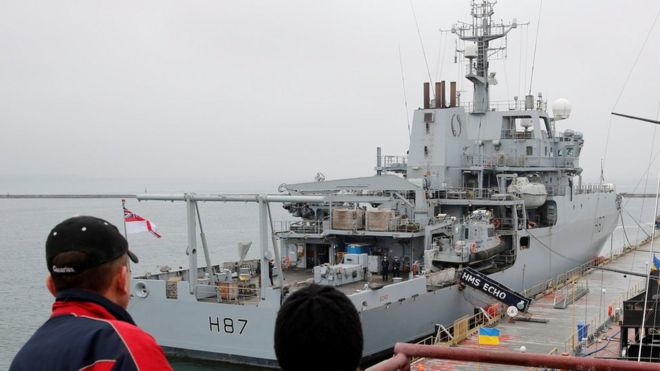 HMS Echo arrived in the Black Sea port of Odessa on Friday, ahead of a visit by the defence Secretary, Gavin Williamson. His trip was part of the continuing efforts by the UK to provide moral and some military support for Ukraine as it faces increased pressure from Russia over its beleaguered eastern provinces.
The plan, according to officials, is to maintain a permanent UK presence in the form of naval vessels in the Black Sea, although it is possible that some of this will be part of the larger NATO effort in the region.  Mr Williamson's speech, after arriving on board the Echo, pulled no punches:
"What we are saying to Russia, what we are saying to President Putin – they cannot continue to act with no regard or care for international laws or international norms."
He then went on to meet the families of the 24 Ukrainian sailors who were detained by the Russians after their vessels were boarded. They are currently awaiting trial in Moscow on trumped-up charges.
At this stage there is no talk about forcing a passage through the Kerch Strait, across which the Russians have built a new causeway and bridge.  The Russians have already started to describe HMS Echo as a "spy ship" as what is no doubt a precursor to more extreme comments intended to stoke anti-West sentiments in a financially-strapped Russia.
HMS Echo is the first of two multi-role hydrographic survey ships commissioned by the Royal Navy. With her sister ship, HMS Enterprise, they form the Echo class of survey vessels. She was built by Appledore Shipbuilders** in Devon in 2002 and is the ninth Royal Navy vessel to carry the name. (Courtesy of Wikipedia)
**See TMT article about Appledore closure: https://www.themilitarytimes.co.uk/hm-forces/another-royal-navy-supplier-goes-under-the-closure-of-appledore-shipyard/