Whale Conservation Success Highlighted in IUCN Red List Update
An update of The IUCN Red List of Threatened Species released by the International Union for Conservation of Nature on Wednesday has demonstrated that species like the Fin Whale have benefited from collaborative conservation action to protect them.
The Fin Whale has moved from Endangered to Vulnerable, and its recovery follows international bans on commercial whaling in the North Pacific and in the Southern Hemisphere, in place since 1976, and on significant reductions in catches in the North Atlantic since 1990. The nearly complete protection of Fin Whales throughout their range has allowed the global population to reach around 100,000 mature individuals.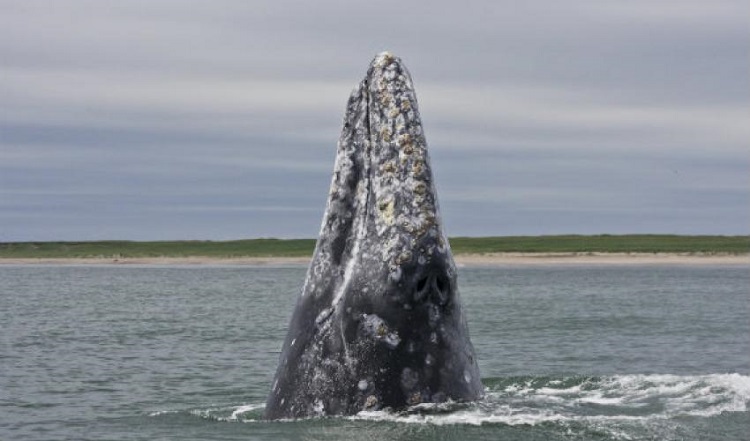 The status of the western sub-population of the Gray Whale has also improved, moving from Critically Endangered to Endangered. Western Gray Whales have been protected from commercial whaling in almost all range state since 1980, but only recently has there been clear evidence of increasing numbers in the western Pacific, particularly off Sakhalin Island, Russia. The delay between conservation measures taking effect and the detection of whale recovery is due, in part, to these animals' slow rate of reproduction.
Five Gray Whale range states – Japan, Russia, South Korea, the U.S., and Mexico – have signed a Memorandum of Cooperation Concerning Conservation Measures for the Western Gray Whale Population. Industrial activity including oil and gas development and commercial fisheries also represent a potential threat to Gray Whales. Since 2004, an IUCN-led independent panel of scientists has been advising Sakhalin Energy, one of the largest companies operating offshore in the Russian Far East, on how to manage the potential impacts of its activities on the whales.
These conservation successes are proof that the ambitious, collaborative efforts of governments, business, and civil society could turn back the tide of species loss, said Inger Andersen, IUCN Director General. The IUCN Red List now includes 96,951 species of which 26,840 are threatened with extinction.
Also – from a man-made perspective, the following article demonstrates how new design and equipment technology can assist in reducing the pollution of the seas and this planet from shipping. It would be interesting to get a comment from a naval ship designer about how much of this technology might be feasible for a warship, though of course, these do not have the large areas of "open space" available on which to mount devices such as solar cells.
Dolphin-Like Propulsion
NYK Group has launched a new future concept pure car and truck carrier that has been designed to be emission-free: the "NYK Super Eco Ship 2050."
The power needed to operate the ship has been cut by 70 percent by remodeling the hull to decrease water friction, an air-lubrication system, reduced hull weight, fuel cells for electric propulsion and the incorporation of flapping foils that mimic the movements of dolphins.
Computer-controlled devices, such as gyro stabilisers, are also installed to provide active stability for the lightweight vessel hull, and automatic hull cleaning during port stays prevents any negative impact on vessel efficiency.
Instead of fossil fuels, power for the ship would come from solar energy and hydrogen produced from renewable energy sources to produce a zero-emission vessel. Waste heat recovered from the fuel cells is also used. On long voyages, solar power can be utilized.
Maintenance is managed through the use of digital twins, a technology that realises physical conditions digitally and enables real-time analyses from land offices, accident prevention, and optimal maintenance.
Optimisation of route planning is no longer a ship-level activity, says NYK. It will be done at a port and on a fleet level, which will enable just-in-time arrival throughout the supply chain. Automatic mooring and efficient ship-to-ship cargo handling will minimise port stays.
For the design, NYK teamed up with MTI and Elomatic to review the technical advances conceived for NYK's previous concept ship (i.e., NYK Super Eco Ship 2030, created in 2009) and design an updated version that makes use of advances digitisation technology.

NYK's reduction targets for GHG emissions are 30 percent per ton-kilometre by 2030 compared with a 2015 base year, and 50 percent per ton-kilometre by 2050. These targets have been recognised as science-based by the international Science-Based Targets initiative.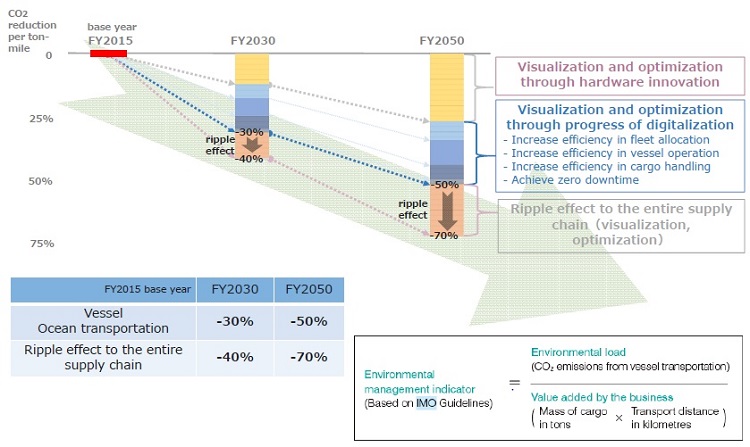 All text and images courtesy of Maritime-Executive  https://www.maritime-executive.com